Hello fellow readers! Welcome back to the blog. I hope you all are doing well and having a great day. For today's post I thought it would be really fun to do a summer favorite post. I don't think I've ever done one before so this should be pretty interesting. Grab a comfy chair and let's get started.
---
The Ordinary Niacinamide 10% + Zinc 1% Serum
I recently bought the Ordinary Niacinamide 10% + Zinc 1% serum from Ulta and it has worked so well for me. I've only used it for about 3 weeks and it helps my blemishes heal so fast. I try to use it twice daily but I just mostly use it once because I either forget or don't feel like doing my whole skincare routine 😉 The best part of serum is the price. You can get the 30 ml bottle for $5.90 USD and the 60 ml bottle for $10.60 USD
The Ordinary Natural Moisturizing Factors + HA
Another great product by the ordinary is their Natural Moisturizing Factors + HA. This moisturizer really helps my skin after I use the Niacinamide serum. The Niacinamide serum is more on the drying side to help with sebum, blemishes, and congestion so this definitely helps balance my skin from drying out.
CeraVe Foaming Cleanser Normal to Oily Skin
The CeraVe Foaming Cleanser Normal to Oily Skin is probably the best cleanser I've tried so far. It takes off all the oil and dirt but it's not harsh on my skin. It is also fragrance free which is a plus because sometimes the fragrances in skincare can smell absolutely disgusting. You can buy this product at stores like Walmart, Target, Ulta etc.
Target 6pk Washcloth Set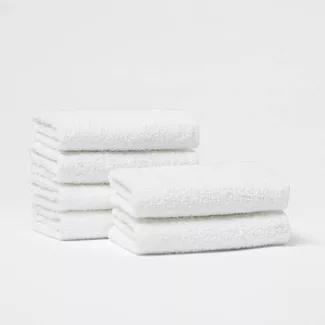 I actually got these in the mint color but I'm absolutely loving these washcloths. They are so cute and they do their job pretty well. I would say that these washcloths are pretty average so you don't have to go out and especially buy these. There are many other options around that might even be softer too.
Champagne Toast Gentle Foaming Hand Soap
The champagne toast is one of my favorite scents at bath and body works. I absolutely love the scent so I was very excited when I was able to grab this soap. I got mine for about $5 excluding tax but I used the 4 for $20 deal.
Paperbag shorts
I have been loving my pair of paperbag shorts. They are not only perfect for summer but they are so comfortable. They also have pockets which are very handy for storing your phone or anything you may need to carry.
---
Thank you all so much for reading! I hope you enjoyed reading this post. If you have any blog post suggestions don't hesitate to drop them in the comments 🙂 Have a wonderful rest of your day or night.